A B C D E F G H I J K L M N O P Q R S T U V W X Y Z All
K
Kaharudin, Hendri Asyhari Fajrian
, Australian National University
Kartika, Ganang Dwi
, pengajar Program Studi Filsafat Fakultas Ilmu Pengetahuan Budaya Universitas Indonesia
Kasijanto, Kasijanto
, Pengajar pada Departemen Sejarah, Fakultas Ilmu Pengetahuan Budaya, Universitas Indonesia
Kealy, Shimona
, ARC Centre of Excellence for Australian Biodiversity and Heritage, based at the Australian National University in the Archaeology & Natural History Department, College of Asia and the Pacific
Kencono, Dilah
Kencono, Dilah
, Fakultas Ilmu Pengetahuan Budaya Universitas Indonesia (Indonesia)
Kieven, Lydia
, University of Bonn
Kitada, Yuko
, mahasiswa pascasarjana Program Studi Linguistik, Tokyo University of Foreign Studies, Tokyo, Jepang
Kitamura, Yumi
, Kyoto University Library
Kleden–Probonegoro, Ninuk
, Center for the Study of Society and Culture of the Indonesian Institute of Sciences (Pusat Penelitian Masyarakat dan Kebudayaan, Lembaga Ilmu Pengetahuan Indonesia, PMB-LIPI)
Klok, Jozina Vander
, University of Oslo
Kluge, Angela
, A Senior Language Assessment Consultant with SIL International
Koh, Young Hun
Koolhof, Sirtjo
, Radio Nederland Wereldomroep
Koster, Gijs L.
, Retired, formerly lecturing at University Sains Malaysia, Universitas Indonesia, Universidade do Porto, and Universidade do Minho)
Kramadibrata, Dewaki
, Faculty of Humanities, University of Indonesia
Kratz, E. Ulrich
Krauße, Daniel
, University of Newcastle, NSW
Kristianto, Bayu
, a Doctoral student at Native American Studies Department, University of California, Davis.
Kristianto, Bayu
, Fakultas Ilmu Pengetahuan Budaya Universitas Indonesia (Indonesia)
Kristijanto, Augustinus Ignatius
, Fakultas Sains dan Matematika, Universitas Kristen Satya Wacana
Kumar, Ann
, Australian National University
Kurnia, Fabiola D.
Kurnia, Lilawati
, Universitas Indonesia
Kurnia, Lilawati
, teaches literature and cultural studies at the Graduate Program of the Literature Department, Faculty of Humanities University of Indonesia.
176 - 200 of 529 Items
<<
<
3
4
5
6
7
8
9
10
11
12
>
>>
This work is licensed under a Creative Commons Attribution-NonCommercial 4.0 International License.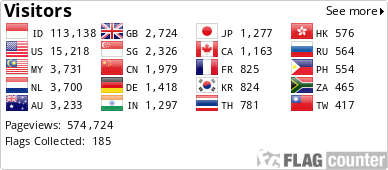 View My Stats