Creating heritage in Ubud, Bali
Abstract
In Bali, heritage is more-or-less synonymous with tradition. The popular view of what constitutes Bali's heritage tends to focus on the village and wider district of Ubud. Through examing at the strategies employed by the lords of Ubud during the middle part of the twentieth century, we can better understand how the image of heritage sites is created. In the case of Ubud, the construction of centre of tradition was carried out through alliances with local artists and with expatriates, notably Rudolf Bonnet. The latter were able to mobilise publicity and networks to attract resources and elevate the district's reputation.
Keywords
Bali; Ubud; arts; painting; heritage.
References
Anon (Rudolf Bonnet?). 1940. "Uit de cultuurbeweging; Pitamaha 1936-9 Januari 1940", Mededeelingen van de Kirtya Liefrinck-van der Tuuk 11: 18-21.
Bloembergen, Marieke. 2006. Colonial spectacles; The Netherlands and the Netherlands-Indies at the world exhibitions, 1880-1931, Singapore: NUS Press.
Bonnet, Rudolf. 1936. "Beeldende kunst in Gianjar", Djåwå 16: 59-72.
Carpenter, Bruce. 1997. W.O.J.Nieuwenkamp; First European artist in Bali. Hong Kong: Periplus.
Carpenter, Bruce, John Darling, H.I.R. Hinzler, Kaja McGowan, Adrian Vickers, and Soemantri Widagdo. 2014. Lempad of Bali; The illuminating line. Singapore: Editions Didier Millet.
Couteau, Jean. 1999. Museum Puri Lukisan. Ubud: Ratna Wartha Foundation.
Darling, John. 2016. "Lempad of Bali", Taman Sari Productions.
[< http://www.lempad.net/book/>; accessed 27 January 2019.]
Ensink, J. 1967. On the Old-Javanese Cantakaparwa and its tale of Sutasoma, The Hague: Martinus Nijhoff, 1967. [Verhandelingen KITLV 54.]
Geertz, Hildred. 1994. Images of power; Balinese paintings made for Gregory Bateson and Margaret Mead. Honolulu: University of Hawai'i Press.
Geertz, Hildred, and Ida Bagus Madé Togog. 2005. Tales from a charmed life; A Balinese painter reminisces. Honolulu: University of Hawai'i Press.
Girindrawardani, A.A.A. Dewi, Adrian Vickers, and Rodney Holt. 2014. The Last rajah of Karangasem, Denpasar: Sariktaksu.
Hill, Christopher. 2006. Survival and change; Three generations of Balinese painters. Canberra: Pandanus.
Indonesian art. 1949. Indonesian art; A loan exhibition from the Royal Indies Institute, Amsterdam, The Netherlands. [31 October-31 December 1949, New York: Asia Institute; 16 February-31 March 1949, Chicago: The Art Institute of Chicago; 24 April-29 May 1949, Baltimore: Baltimore Museum of Art.]
MacRae, Graeme S. 1997. Economy, Ritual and History in a Balinese town. PhD thesis, University of Auckland. [Available at: .]
MacRae, Graeme S. 2011. "Ubud since 1970; Revival and prosperity, tourism and culture", in: Bembi Dwi Indiro M. and Soemantri Widagdo (eds), Ubud; A short history of an art and cultural center in Bali, pp. 71–90, Ubud: Museum Puri Lukisan.
Kasper Niehaus. 1941. Levende Nederlandsche Kunst. Amsterdam: Bigot and Van Rossum.
Roever-Bonnet, H. de. 1993. Rudolf Bonnet; Een zondagskind. Wijk: Pictures Publishers.
Seebass, Tilman. 1996. "Change in Balinese musical life; Kebiar in the 1920s and 1930s, in: A. Vickers (ed.), Being modern in Bali; Image and change, pp. 71-91. New Haven, CT: Yale University Southeast Asian Studies.
Spanjaard, Helena. 2007. Pioneers of Balinese painting; The Rudolf Bonnet collection. Amsterdam: KIT.
Stepputat, Kendra. 2012. "Performing kecak; A Balinese dance tradition between daily routine and creative art", Yearbook for Traditional Music Vol. 44: 49-70.
Sukawati, Cokorda Gde Agung. 1979. Reminiscences of a Balinese Prince (as dictated to Rosemary Hilbery). Honolulu: Southeast Asian Studies, University of Hawaii. [Southeast Asia Paper No. 14.]
Tentoonstelling. 1948. Tentoonstelling van Oost-Indonesische Kunst. Schilderijen, Beeldhouwwerk, Weefsels en Zilverwerk der Gelegenheid van het Gouden Regeringsjubileum van H.M. Koningen Wilhelmina. Amsterdam: Indische Instituut. [25 August-1 October 1948.]
Vickers, Adrian. 1989. Bali; A paradise created. Rowville. Vic.: Penguin. [Revised version, Vermont: Tuttle, 2013.]
Vickers, Adrian. 2000. "I Nengah Metra 1902-1946; Thoughts on the biography of a modern Balinese", in: A. Vickers, Nyoman Darma Putra, and Michele Ford (eds), To change Bali, pp. 89-112. Denpasar: Bali Post.
Vickers, Adrian. 2011a. "Bali rebuilds its tourist industry", Bijdragen tot de Taal-, Land- en Volkenkunde 167/4: 459-481.
Vickers, Adrian Vickers. 2011b. "Ubud; Becoming Bali's Centre of the Arts 1920-1970, in: Bembi Dwi Indiro M. and Soemantri Widagdo (eds), Ubud; A short history of an art and cultural center in Bali, pp. 35-58. Ubud: Museum Puri Lukisan.
Vickers, Adrian. 2012. Balinese art; Paintings and drawings of Bali 1800-2010. Singapore: Tuttle.
DOI:
http://dx.doi.org/10.17510/wacana.v20i2.747
Refbacks
There are currently no refbacks.
This work is licensed under a Creative Commons Attribution-NonCommercial 4.0 International License.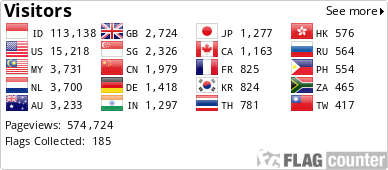 View My Stats