Sajarah Cina A nineteenth-century apology in Javanese
Abstract
The sometimes precarious position of the Chinese in Indonesia has a long history. The (most probably) nineteenth-century author, Apdul Mutalip, advocated a more balanced view by pointing out some fundamental contributions the Chinese had made to the welfare of the Javanese; he also demonstrates that their presence in Java has a basis in law. Although seems like a poem in Javanese metre, his Sajarah Cina, written in Javanese, is remarkable not only for its subject matter but also for the way the material is presented, in a rhetoric unknown to exist in Javanese literature by most scholars.
Keywords
Chinese in Java; Javanese historiography; manuscripts.
References
Braet, Aontoine. [N.d.]. Retorische kritiek; Overtuigingskracht van Cicero tot Balkenende. Den Haag: Sdu.
Bruineman, J.A.M. 1946. "De invloed der Chineezen", in: C.W. Wormser (ed.), Wat Indië ontving en schonk, pp. 56-76. Amsterdam: Wereldbibliotheek.
Corbett, Edward P.J. and Robert J. Connors. 1999. Classical rhetoric for the modern student. Fourth edition. New York/Oxford: Oxford University Press. [First edition 1965.]
Kennedy, George A. 1998. Comparative rhetoric; An historical and cross-cultural introduction. New York/Oxford: Oxford University Press.
Molen, Willem van der. 2003. "A token of my longing; A rhetorical analysis of Sita's letter to Rama, Old Javanese Ramayana 11.22-32", Indonesia and the Malay World 91: 339-355.
Molen, Willem van der. 2015. "Documents on the life of Ko Ho Sing (1825-1900)", in: Teresa Liliana Wargasetia (ed.), Proceeding; The 2nd International Conference on Chinese Indonesian Studies, pp. 224–233. Bandung: Maranatha University Press.
Pigeaud, Theodore G.Th. 1980. Literature of Java; Catalogue raisonné of Javanese manuscripts in the library of the University of Leiden and other public collections in the Netherlands. Vol. 4: Supplement. The Hague: Nijhoff. [Bibliotheca Universitatis Leidensis Codices Manuscripti 20.]
Ricklefs, M.C. 2008. A history of modern Indonesia since c. 1200. Fourth edition. Basingstoke: Palgrave Macmillan. [First editon 1981.]
DOI:
http://dx.doi.org/10.17510/wacana.v18i2.590
Refbacks
There are currently no refbacks.
This work is licensed under a Creative Commons Attribution-NonCommercial 4.0 International License.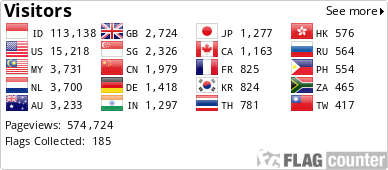 View My Stats