Responsive turns in Indonesian informal conversation
Abstract
People have all sorts of expectations about how interlocutors will and should behave linguistically when engaged in a conversation. These conversational norms are usually implicit and are sometimes difficult to master in a language that is new to you. This paper presents a model of different types of responses in informal conversation, illustrated with Indonesian examples. It builds upon the conversation analytic notion of preference; distinguishing preferred – or constructive – responses and dispreferred – or competitive – responses. The model is meant as a tool to cross-linguistically compare response behaviour to gain insight in language specific expectations about interaction in informal conversation.
Keywords
Informal conversation, preference, Indonesian, conversational norms.
References
Atkinson, J. Maxwell and Paul Drew. 1979. Order in the court; The organization of verbal interaction in judicial settings. Basingstoke: Macmillan.
Bilmes, Jack. 1988. "The concept of preference in conversation analysis", Language in Society 17(2): 161-181.
Boyle, Ronald. 2000. "Whatever happened to preference organization?", Journal of Pragmatics 32: 583-604.
Clyne, Michael. 1994. Inter-cultural communication at work; Cultural values in discourse. Cambridge: Cambridge University Press.
Dingemanse, Mark, Joe Blythe, and Tyko Dirksmeyer. 2014. "Formats for other-initiation of repair across languages; An exercise in pragmatic typology", Studies in Language 38: 1, 5-43.
Drew, Paul. 1990. "Conversation analysis; Who needs it?", Text 10(1/2): 27-35.
Geertz, Clifford. 1973. The interpretation of cultures. New York: Basic Books.
Jefferson, Gail. 1972. "Side sequences", in: David N. Sudnow (ed.), Studies in social interaction, pp. 294-338. New York: MacMillan/The Free Press.
Levinson, Stephen C. 1983. Pragmatics. Cambridge: Cambridge University Press.
Kurzon, Dennis. 1998. Discourse of silence. Amsterdam: Benjamins.
Pomerantz, Anita. 1978. "Compliment responses; Note on the co-operation of multiple constraints, in: Jim N. Schenkein (ed.), Studies in the organization of conversational interaction, pp. 79-112. New York: Academic Press.
Pomerantz, Anita. 1984. "Agreeing and disagreeing with assessments. Some features of preferred/dispreferred turn shapes", in: J. Maxwell Atkinson and John Heritage (eds), Structures of social action; Studies in conversation analysis, pp. 57-101. Cambridge: Cambridge University Press.
Sacks, Harvey. 1987 [1973]. "On the preference for agreement and contiguity in sequences in conversation", in: Graham Button and John R.E. Lee (eds), Talk and social organization, pp. 54-69. Clevedon: Multilingual Matters.
Schegloff, Emanuel A., Gail Jefferson, and Harvey Sacks. 1977. "The preference for self-correction in the organization of repair in conversation", Language 53(2): 361-382.
Steinhauer, Hein. 2002. Leerboek Indonesisch. Second revised edition. Leiden: KITLV Uitgeverij.
Stivers, Tanya, et al. 2009. "Universals and cultural variation in turn-taking in conversation", PNAS 106(26): 10587-10592.
Wierzbicka, Anna. 2003 [1991]. Cross-cultural pragmatics; The semantics of natural language. Berlin: Mouton de Gruyter.
Wouk, Fay. 1998. "Solidarity in Indonesian conversation; The discourse marker kan", Multilingua 17: 381-408.
Wouk, Fay. 2001. "Solidarity in Indonesian conversation; The discourse marker ya", Journal of Pragmatics 33: 171-191.
DOI:
http://dx.doi.org/10.17510/wjhi.v16i1.372
Refbacks
There are currently no refbacks.
This work is licensed under a Creative Commons Attribution-NonCommercial 4.0 International License.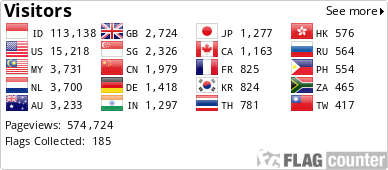 View My Stats