Memahami "Cultural Studies" dan Multikulturalisme dari Perspektif Pascamodern
Abstract
Cultural studies is a study of culture, the paradigm of which is quite different from
that of the conventional (i.e. modern) studies. If we accept this view, it means that the whole
problem of cultural reality, epistemology, and methodology cannot be used to understand and
investigate cultural studies and multiculturalism. The infeasibility of using conventional
study of culture to apprehend cultural studies and multiculturalism is related with the
principle of incommensurability between those two fields, so there are different worldviews
and rules (language games) between the two. This difference is vividly showed in character
and model of study that conceives culture as homogeneity, single identity, patterned values,
fragmented. Cultural studies and multiculturalism conceive culture as plurality, complexity,
constructed identity, dynamics, diversity, interaction, and something porous. In light of this
worldview, cultural studies, multiculturalism, and globalism, according to my analysis, must
be understood and studied from postmodern perspective or paradigm.
Keywords
Cultural studies, multikulturalisme, teori kritis, pascastrukturalisme (poststructuralism), pascamodernisme (postmodernism).
References
Agger, Ben (2003), Teori Sosial Kritis: Kritik, Penerapan dan Implikasi. (terj. Nurhadi). Yogyakarta: Kreasi Wacana.
Appleby, Joyce(et al.) (1996), Knowledge and Postmodernism in Historical Perspective. New York:Rotledge.
Baudrillard, Jean (1983), Simulations. New York: Semiotext(e).
Barthes, Rolamd (1973), Mythologies. London: Paladin.
Berger, P.L & Luckmann (1986), The Social Construction of Reality; A Treatise in Sociology of Knowledge. Harmond-Sworth: Penguin.
Beilhard, Peter (2002), Teori-Teori Sosial. (terj. Sigit Jatmiko). Yogyakarta: Pustaka Pelajar.
Bell, Daniel (1992), The End of Ideology: On The Exhaustion of Political Ideas in the Fifties. New York: Free Press.
Bennet, Tony (1982), "Popular Culture: Themes and Issues" dalam Popular Culture Arts in America. Open University Press.
Bleicher, J. (1980) Contemporary Hermeneutics, Hermeneutics as Method, Philosophy and Critique. London: Routledge & Kegan Paul.
Bourdieu, Pierre and Waquant, Loic J. D., (ed) (1992), An Invitation to Revlexive Sociology. Chicago: University of Chicago Press.
Cahoon, Lawrence (ed), (1996), From Modernism to Postmodernism: An Anthology. Blackwell Publisher.
Deleuze, Gillez, and Guattari, Felix (1972/1983), Anti-Oidipus: Capitalism and Zchizopherenia. Minneapolis: University of Minnesota Press.
Denzin, Norman K., & Yvonna S.Lincoln (1994), Handbook of Qualitative Research. London-New Delhi: Sage Publication.
Derrida, J. (1974), On Grammatology. Baltimore: John Hopkins.
Durham, Meenakshi & Douglas M. Kellner (ed) (2002), Media Cultural Studies: Key-Works. Blackwell Publishers Inc.
Fay, B. (1996), Contemporary Philosophy of Social Science: A Multicultural Approach. Oxford: Black Well.
Foucault, Michel (1965), Madness and Civilization, (terj. Richard Howard). Random House inc.
-------- (1970), The Order of Things: An Archeology of The Human Science. New York: Random House.
-------- (1972), The Archeology of Knowledge and Discourse on Language, (terj. Alan Sheridan). Travistock.
------- (1977),Diciplin and Punish; The Birth of Prison (terj. Alan Sheridan). London: Worcester, Billing & Sons.
Feyerabend, Paul (1975), Against Method, Verso. London: sheed and Ward.
Gadamer, H.G. (1975), Truth and Method. London: Sheed and Ward.
Gandhi, Leela (2001), Postcolonial Theory A Critical Introduction (terj.) Yogyakarta: Penerbit Qalam.
Giroux, H. (1981), Ideology, Culture and the Process of Chooling. London: Falmer Press.
---------- (1992), Border Crosing; Cultural Workers and the Politics of Education. London:Routledge.
Giroux, H. & Aronowitz, S.(1986), Educatio Under Siege: The Conservative. Liberal and Radicale Debate over Schooling. London: Routledge & Kegan Paul.
Glaser, N. (1997), We Are All Multiculturalist Now. Cambridge: harvard University Press.
Guba, Egon G. (ed) (1996), The Paradigm Dialog. London-New Delhi: Sage Publications.
Gramci, Antonio (1971), Selections From Proson Notebooks. London: Laurence and Wishart.
Habermas, J. (1978), Theory and Practice. Boston: Beacon Press.
----------- (1987a), The Theory of Communicative Action (Vol.I). Boston:Beacon Press.
----------- (1987b), The Philosophical Discorse of Modernity. Twelve Lectures. Mass: MIT Press.
Heckman, Susan, J. (1990), Gender and Knowledge: Elements of Postmodern Feminism. Cambridge: Polity Press.
Hekman, S.J. (1986), Hermeneutics and the Sociology of Knowledge. Oxford: Polity Press.
Jameson, Fredrich., Menakshi, Durham dan Keller, Douglas M. (ed) (2002), "The Pascatmodernism, or the Cultural Logic of Late Capotalism" dalam Media and Cultural Studies. Key-Works.
Hoggart, Richard (1990), The use of Literacy. Harmondsworth: Penguin.
Keller, Douglas(1995), Media Culture. London and New York: Routledge.
------(2003), Teori Sosial Radikal (terj. Eko, Rindang Farichah). Yogyakarta: Syarikat Indonesia.
King, Richard (2001), Agama, Orientalisme, dan Postkolonialisme: Sebuah Kajian Tentang Pertelingkahan Antara Rasionalitas dan Mistik. (terj. Agung Prihantoro). Yogyakarta:Qalam.
Kvale, Steiner (ed.) (1992), Psychology and Postmodernism. London: Sage Publications Ltd.
Kuhn, Thomas S. (1970), The Structure of Scientific Revolutions. Chicago University Press.
Leche, John (1994) Fifty Key Contemporary Thinkers: From Structualism to Postmodernism. London-New York: Rotledge.
Lubis, Akhyar Yusuf (2003), Paul Feyerabend Penggagas Antimetode. Jakarta: Teraju-Mizan.
------ (2004), Setelah Kebenaran dan Kepastian Dihancurkan Masih Adakah Tempat Berpijak bagi Ilmuwan. Bogor: Akademia.
Lyotard, Francois (1971), Discourse Figure. paris: Klincksieck.
-------- (1973), Libidinal Economy (trans. I Hamilton Grant). Bloomington: Indiana University Press.
-------- (1973), Just gaming (With Jean-Loup Thebaud) (terj. Wlad Godzich). Minneapolis: Minnesota University Press, Manchester University Press.
-------- (1982-1985), The Postmodern Explained to Children: Correspondence (terj. Julian Prefanis & Morgan Thomas). Sydney: Power Publications.
-------- (1983), The Different: Phrases in Dispute (trans. George ven den Abeele). Minneapolis: Minneasota University Press: Manchester University Press.
-------- (1984), The Postmodern Condition: A Report on Knowledge (trans. Geoff Bennington & Brian Massumi). Minneapolis: University of Minneapolis Press.
-------- (1989), The Lyotard Reader. Oxford. Basili Blackwell.
Miller, Toby (ed.) (2001), A Companion to Cultural Studies. Blackwell Publishers Inc.
Nieto, S. (1992), Affirming Diversity: The Sociopolitical Context of Multicultural Education. New York: Longman.
Norris, Christopher (1997), New Idols of The Cave: on The Limits of Anti-realism. Manchester University Press.
Palmer, Richard E. (2003), Hermeneutika Teor Baru Mengenai Interpretasi (terj. Musnur Hery dan Damanhuri Muhammed). Yogyakarta: Pustaka Pelajar.
Purwasito Andrik (2003), Komunikasi Multikultural. Universitas Muhammadiyah Surakarta: Muhammadiyah University Press.
Ritzer, George (2003), Teori Sosial Pascatmodern (terk. Muhammad Taufik). Yogyakarta: Juctapascae Publication Study Club dan Kreasi Wacana Yogyakarta.
Roberts, Tyler T. (2002), Spiritualitas Postreligius: Eksplorasi Hermeneutis Transfigurasi Agama dalam Praktis Filsafat Nietzsche (terj. M. Khatarina). Yogyakarta: Qalam.
Robinson, Dave (2002), Seri Postmodern, Nietzsche dan Postmodernisme (terj. Sigit Jatmiko). Yogyakarta: Jendela.
Rorty, Richard (1980), Philosophy and the Mirror of Nature. Princeton University Press.
------------- (1983), Consequences of Pragmatism, (Essay: 1972-1980). Minneapolis Univ. Press.
------------- (1991), Objectivity, Relativism, and Truth: Philosophical Papers (Vol.1). Cambridge University press.
Thompson, John B. (2004), Kritik Ideologi Global, Teori Sosial Kritis Tentang Relasi Ideologi dan Komunikasi Massa. (terj. Haqqul Yaqin). Yogyakarta: IrCiSod.
Turner, Bryan S. (2002), Runtuhnya Universalitas Sosiologi Barat: Bongkar Wacana Atlas: Islam Vis A Vis Barat, Orientalisme, Postmodernisme dan Globalisme (terj. Sirojuddin, Arif dkk.). Yogyakarta: Ar-Ruzz.
Sardar, Ziauddin., Van Loon, Borin (2001), Cultural Studies for Beginners (terj. Alfatri Aldin). Bandung: Mizan.
Sheridan, Alan (1980), Michel Foucault: The Will to Truth. London: Travistock.
Sim, Stuart (2002), Seri Postmodern, Derrida dan Akhir Sejarah (terj. Sigit Jatmiko). Yogyakarta: Jendela
Storey, John (2003), Teori Budaya dan Budaya Pop: Memetakan Lanskap Konseptual Cultural Studies. Yogyarkata: Penerbit Qalam.
Watson, C. W. (2000) Multiculturalism. Buckingham Pulication: Open University Press.
William, Raymond (1963), Culture and Society. Hardmondsworth: Penguin.
DOI:
http://dx.doi.org/10.17510/wjhi.v6i2.350
Refbacks
There are currently no refbacks.
This work is licensed under a Creative Commons Attribution-NonCommercial 4.0 International License.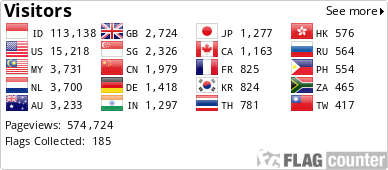 View My Stats