Masyarakat Baduy dan pengobatan tradisional berbasis tanaman
Abstract
A Baduy community in general is still bound by the traditional rules (pikukuh).
One of the pikukuh said lojor teu meunang dipotong, pendek teu meunang disambung,
which means "what is long might not be cut off, what is short might not be
connected". The implicated meaning pikukuh is that which does not change
something or anything, or does not accept what is available without increasing
or reducing what is available. This also includes not to accept modern goods
or goods made in factories. The inner struggle of Baduy Luar is between on the
one hand trying to preserve the customs of theirs ancestors, but on the other
hand trying to follow the development in modernity and in their environment.
This is reflected in issues related to health. If a Baduy falls ill, the dilemma is to
choose between modern medical treatment that increasingly is easily accessible
with the consequence to violate the local tradition, or to use the traditional herbs
of which the local knowledge is decreasing with the consequence that is more
difficult to get this kind of therapy.
Keywords
Pengetahuan tradisional (indigenous knowledge), kearifan lokal (local wisdom), pengobatan tradisional (traditional medication), Baduy.
References
Avonina, Sthefanny. 2006. "Apa yang dimaksud dengan pengetahuan tradisional?", Konvergensi IX (Oktober): 14-19.
Danasasmita, Saleh dan Djatisunda, Anis. 1986. Kehidupan masyarakat Kanekes. Bandung: Bagian Proyek Penelitian dan Pengkajian Kebudayaan Sunda (Sundanologi).
Garna, Judhistira. 1988. "Perubahan sosial budaya Baduy", di dalam: Nurhadi Rangkuti (red.), Orang Baduy dari inti jagat, hlm 47-55. Yogyakarta: Bentara Budaya, KOMPAS, Etnodata, Prosindo, Yayasan Budhi Dharma Pradesa.
Garna, Judistira. 1993. "Masyarakat Baduy di Banten", di dalam:
Koentjaraningrat (red.), Masyarakat terasing di Indonesia, hlm. 120-152. Jakarta: Depsos RI, Dewan Nasional Indonesia untuk Kesejahteraan Sosial, dan Gramedia Pustaka Utama.
Hadi, A.C Sungkana. 2006. "Melestarikan kearifan masyarakat tradisional (Indigenous Knowledge)", Buletin Perpustakaan dan Informasi Bogor (Juni): 27-32.
Hidayat, Syamsul. 2005. Ramuan tradisional ala 12 etnis Indonesia. Jakarta: Penebar Swadaya.
Iskandar, Johan. 1992. Ekologi perladangan di Indonesia; Studi kasus dari daerah Baduy, Banten Selatan, Jawa Barat. Jakarta: Djambatan.
Permana, R. Cecep Eka. 2006. Tata ruang masyarakat Baduy. Jakarta: Wedatama Widya Sastra.
Purnomohadi, Srihartiningsih. 1990. "Sistem Interaksi sosial-ekonomi dan pengelolaan sumber daya alam oleh masyarakat Badui di Desa Kanekes, Banten Selatan". Tesis Magister, Institut Pertanian Bogor, Bogor.
Redaksi Agromedia. 2005. Ramuan tradisional untuk mengatasi aneka penyakit. Jakarta: AgroMedia Pustaka.
Sukandar E Y, 2006. "Tren dan paradigma dunia farmasi, Industri-Klinik-
Teknologi Kesehatan". Orasi ilmiah Dies Natalis Institut Teknologi
Bandung. (Http://itb.ac.id/focus/ focus_file /orasi-ilmiah-dies-45.pdf), diakses Januari 2006.
Supriadi dkk. 2001. Tumbuhan obat Indonesia; Penggunaan dan khasiatnya. Jakarta: Pustaka Populer Obor.
World Health Organization (WHO). 2003. "Traditional medicine", (http://www.who.int/mediacentre/factsheets/fs134/en/), diakses Januari 2006.
DOI:
http://dx.doi.org/10.17510/wjhi.v11i1.145
Refbacks
There are currently no refbacks.
This work is licensed under a Creative Commons Attribution-NonCommercial 4.0 International License.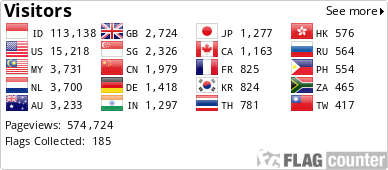 View My Stats