Youth culture and urban pride; The sociolinguistics of East Javanese slang
Abstract
This study offers an overview of the characteristics and social functions of youth slang in the Indonesian province of East Java. It examines Boso Walikan and various types of Surabayan slang. Boso Walikan emerged in Malang as a secret language that was deliberately made unintelligible to outsiders. Over the decades, large parts of Malang's urban population developed proficiency in the language and appropriated it as an identity marker. The situation in nearby Surabaya is different. While lacking a uniform local slang comparable to that of Malang, several communities make an effort to differentiate themselves through specific linguistic habits, which are briefly introduced. These case studies tell us not only how young people shape their speech, they illustrate how the East Javanese dialect deals with linguistic variety, lexical borrowing and innovation.
Keywords
Slang, youth language, Boso Walikan, East Java, Malang, Surabaya.
References
Arps, Bernard and I. Supriyanto. 2002. "Special report; Javanese on the internet", Caraka, 'The Messenger'. A Newsletter for Javanists 37-38: 1-10.
Barasa, Sandra Nekesa. 2010. Language, mobile phones and internet; A study of SMS texting, email, IM, and SNS chats in computer mediated communication (CMC) in Kenya. PhD thesis, University of Leiden.
Boellstorff, Tom. 2007. A coincidence of desires; Anthropology, queer studies, Indonesia. Durham and London: Duke University Press.
Conklin, H.C. 1956. "Tagalog speech disguise", Language 32: 136-139.
David, Bettina. 2007. Indonesisch slang; Bahasa gaul. Bielefeld: Reise-Know-How.
Dreyfuss, G.R. 1983. "The backward language of Jakarta youth; A bird of many language feathers", Nusa 16: 52-56.
Dreyfuss, G.R. and Oka Djoehana. 1979. "Chinese Indonesian; A new kind of language hybrid?", in: S.A. Wurm (ed.) Papers in Pidgin and Creole Linguistics 2, pp. 247-274. Canberra: Australian National University. [Pacific Linguistics A-57.]
Evans, I.H.N. 1917. "Malay back-slang", Journal of the Federated Malay States Museums 7: 115-116.
Gil, David. 2002. "Ludlings in Malayic languages; An introduction", in: Bambang Kaswanti Purwo (ed.), Pertemuan Linguistik Pusat Kajian Bahasa dan Budaya Atma Jaya: Kelima Belas, pp. 125-180. Jakarta: Unika Atma Jaya.
Fox, James J. 2005. "Ritual languages, special registers and speech decorum in Austronesian languages", in: Alexander Adelaar and Nikolaus P. Himmelmann (eds), The Austronesian languages of Asia and Madagascar, pp. 87-109. London and New York: Routledge.
Haryono, Inny C. 1990. "Kelompok dwibahasawan Indonesia – Cina Putonghua di Pancoran – Jakarta Barat", in: Muhadjir and Basuki Suhardi (eds), Bilingualisme dan variasi bahasa, pp. 124-137. Depok: Fakultas Sastra Universitas Indonesia. [Lembaran Sastra 11-12.]
Hoogervorst, Tom G. 2009. "Urban dynamics; An impression of Surabaya's sociolinguistic setting", Wacana 11(1): 39-56.
Hoogervorst, Tom G. Forthcoming. "Malay youth language in West Malaysia", in: Dwi Novi Djenar (ed.), Youth languages of Indonesia and Malaysia. Jakarta: Atma Jaya University/Tokyo: Research Institute for Languages and Cultures of Asia.
Jasawijata and Kartadarmadja. 1921. "Eenige voorbeelden van geheime taal in het Javaansch", Djawa 1: 53-54.
Jones, Russel. 2009. Chinese loan-words in Malay and Indonesian. Kuala Lumpur: University of Malaya Press.
Kartomihardjo, Soeseno. 1981. Ethnography of communicative codes in East Java. PhD thesis, Australian National University.
Kawira, Lita Pamela. 1990. "Bahasa Prokem di Jakarta", in: Muhadjir and Basuki Suhardi (eds), Bilingualisme dan variasi bahasa, pp. 1-23. Depok: Fakultas Sastra Universitas Indonesia. [Lembaran Sastra 11-12.]
Kong Yuanzhi. 2005. Silang budaya Tiongkok-Indonesia. Jakarta: Bhuana Ilmu Populer.
Knebel, J. 1901. "Varia Javanica. (Over Kalangs. - Pasar Londå. - Legende van Telågå-Pasir. - Over het Tingkĕb-feest. - Legende van Njahi-Agĕng Någåpĕrtålå. - Over dievetaal. - Over reiniging), den Javaan naverteld", Tijdschrift voor Indische Taal-, Land- en Volkenkunde 44: 24-59.
Laycock, Don. 1972. "Towards a typology of ludlings, or play-languages", Linguistic communications 6: 61-113.
Lefkowitz, Natalie. 1991. Talking backwards, looking forwards; The French language game Verlan. Tübingen: Gunter Narr Verlag.
Lim, Sonny. 1981. Baba Malay; The language of the 'straits-born' Chinese. Melbourne: Monash University.
Meij, Th. C. van der. 1983. "Enige aspecten van geheimtaal in Jakarta". Master thesis, University of Leiden.
Mous, Maarten. 2009. "The development of urban youth languages in Africa", in: M.C. Junyent (ed.), Transferences; The expression of extra-linguistic processes in the world's languages, pp. 215-232. Vic: Eumo Editorial.
Oetomo, Dede. 1987. The Chinese of Pasuruan; Their language and identity. Canberra: Australian National University. [Pacific Linguistics D-63.]
Oetomo, Dede. 1990. "Bahasa rahasia waria dan gay di Surabaya", in: Muhadjir and Basuki Suhardi (eds), Bilingualisme dan variasi bahasa, pp. 53-67. Depok: Fakultas Sastra Universitas Indonesia. [Lembaran Sastra 11-12.]
Oetomo, Dede. 1991. "Kemultibahasaan dan identitas orang Cina di Indonesia", in: Oetomo, Dede, Jennifer Gushman, and Gunwu Wang (eds), Perubahan identitas orang Cina di Asia Tenggara, pp. 131-43. Jakarta: Grafiti.
Pakir, Anne Geok-In Sim. 1986. A linguistic investigation of Baba Malay. PhD thesis, University of Hawaii.
Prasetyowati, Dwi Agus. 2005. "Ciri-ciri kalimat perintah ragam bahasa etnik Cina peranakan di pecinan Probolinggo", Master thesis, Universitas Jember.
Prentice, D.J. 1982. "Some ludic aspects of Timugon Murut", in: Amran Halim, Lois Carrington, and S.A. Wurm (eds), Papers from the Third International Conference on Austronesian Linguistics. Volume 3; Accent on variety, pp. 145-55. Department of Linguistics, Research School of Pacific Studies, Australian National University.
Pujileksono, Sugeng and Rinekso Kartono. 2007. Model pelestarian budaya lokal melalui bahasa Walikan Malangan dalam menciptakan integrasi di Kota Malang. Malang: Universitas Muhammadiyah Malang.
Purnama, Karyono. 1993. "Slang bahasa Melayu Brunei". Paper, Simposium Internasional Ilmu-Ilmu Humaniora II: Bidang Sejarah & Linguistik, Yogyakarta, 26-27 April.
Purwadi. 1986. "Jargon pelacur di proyek lokalisasi dan rehabilitasi wanita Harapan Sumberjati desa Rambipuji". Master thesis: Universitas Jember.
Rafferty, Ellen. 1982. Discourse structures of the Chinese Indonesian of Malang. Jakarta: Universitas Atma Jaya. [NUSA 12.]
Rafferty, Ellen. 1984. "Languages of the Chinese of Java; An historical review", Journal of Asian Studies 2: 247-272.
Rahardja, Prathama and Henri Chambert-Loir. 1988. Kamus bahasa prokem. Jakarta: Grafitipers.
Rahman, Azizul Rahman Abdul. 1995. Bahasa rahsia bahasa Melayu. Bangi: Penerbit Universiti Kebangsaan Malaysia.
Samper, David Arthur. 2002. Talking Sheng; The role of a hybrid language in the construction of identity and youth culture in Nairobi, Kenya. PhD thesis, University of Pennsylvania.
Slabbert, S. and C. Myers-Scotton. 1996. "The structure of Tsotsitaal and Isicamtho; Code-switching and in-group identity in South African townships", Linguistics 34: 317-342.
Sudarwati. 1987. "Ragam bahasa remaja di Kotamadya Malang". Master thesis, Universitas Jember.
Suhardi. 1977. "Permainan kata dalam bahasa Jawa", Bahasa dan Sastra 6: 2-6.
Suharto. 1983. "Bahasa Walikan Malang tidak lagi bersifat rahasia", Sinar Harapan 9 August 1983.
Valdman, Albert. 2000. "La langue des faubourgs et des banlieues; De l'argot au français populaire", The French review 6: 1179-1192.
Vries, Jan W. de. 1989. "Travestieten in Jakarta; Nederlands als geheimtaal", Ons Erfdeel 32: 717-722.
Widodo, Dukut Imam. 2006. "Osob Kiwalan", in: Dukut Imam Widodo (ed.), Malang tempo doeloe; Djilid doea, pp. 165-172. Malang: Bayumedia Publishing.
Yulianto, Bambang. 2010. "Penggunaan cara walikan dalam bahasa Jawa dialek Tuban kajian fonologi generatif." [Research report.]
DOI:
http://dx.doi.org/10.17510/wjhi.v15i1.107
Refbacks
There are currently no refbacks.
This work is licensed under a Creative Commons Attribution-NonCommercial 4.0 International License.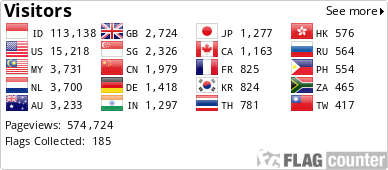 View My Stats